Lighten Your Load
35 Surprisingly Simple Ways to Free Yourself of Stress, Toxins and Clutter

Here's just some of what you'll learn:
* The simple, actionable, all-natural approach to detoxing your body and mind, creating more free time, energy, vitality and freedom in your life
* How to add more peace, calm and tranquility to your day — even when everything seems out of control
* How everything from the beauty products in your medicine cabinet to the processed food in your pantry — even the movies you watch and people you surround yourself with all have a massive impact on your health, wellness and happiness.
#1 International Bestseller.  Available now on Amazon.  Get your copy here.
"Lighten Your Load is a pleasurable and enjoyable little book that helps you put what's important first and everything else last."
 – Will Bowen, #1 Internationally Bestselling Author and Founder of A Complaint Free World

"Sometimes the things that can impact you most are also the simplest. Follow the instructions in this book, and I guarantee that your life will be transformed. There's more straightforward good advice — and wise practice — in these pages than in any self-help book I've ever seen."
 – Caitriona Reed, author, speaker and co-founder of Five Changes
Aligera tu carga

35 estrategias sorprendentemente sencillas para liberarte del estrés, las toxinas y el desorden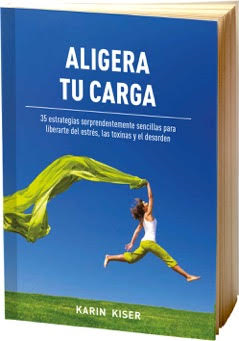 Los siguientes son solo algunos ejemplos de lo que descubriras como hacer:
* Impulsar tus niveles de energía con ejercicios naturales que cualquier persona puede realizer durante apenas unos minutos al día.
* Liberar tiempo y energía al recuperar control sobre tu buzón de entrada.
* Descubrirás en qué forma todo – desde los productos de belleza que guardas en tu botiquín, hasta los alimentos procesados en tu alacena, incluso las películas que ves y las personas que te rodean – ejerce un impacto masivo en tu salud, tu bienestar y tu felicidad.
#1 Bestseller internacional.  Disponible ahora en Amazon. Obtén tu copia aquí.